Composite Front Doors Leicester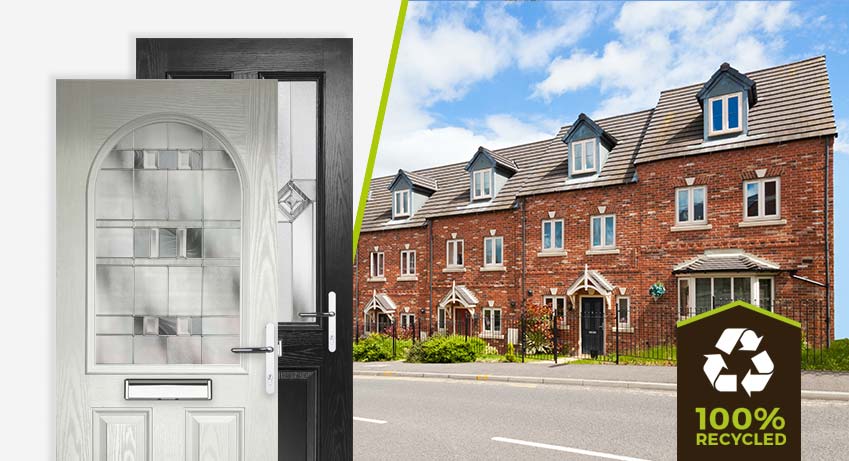 Due to popular demand, we've brought our wide range of modern composite doors to home-owning customers all around Leicester. Made to measure to your requirements, our contemporary composite front doors are perfect to handle the kind of weather found in the Leicester area, where the rainfall averages 684.4mm per year, and offer high energy efficiency for all properties. 
State-of-the-art composite doors are designed to endure harsh conditions and stand firm against all other forms of wear and tear, which makes them the ideal solution for homeowners in Leicester. They're also fitted with cutting-edge locking mechanisms, so you're guaranteed to keep your home and your family safe regardless of the type of door you choose.  
We know that our customers demand high quality, which is why our composite front doors are easy to maintain, highly secure, incredibly durable and offer superb sound insulation. As you know, front doors are the first touch point for your home. This means they have to make a statement. Our customisable composite doors are not only practical, but they're also beautiful too! Not only do you have a range of colours and door styles to choose from – you can also get visually appealing, modern window glass to complement your brand new purchase. Make a stunning first impression on your friends and neighbours with the timeless elegance of a composite door from Eco Plastic Wood today.
Benefits of composite doors:
Excellent thermal insulation
Low maintenance
Wood-like appearance
No cracking or imperfections
Incredibly secure
Durable
No unsightly plugs and screws
Water resistant
Available in many different finishes and colours
Our modern composite front doors are designed to rectify the negatives of wooden timber doors and uPVC doors. They have the visual appearance of timber but they're superior in every way. There are many different reasons why they've become the chosen contemporary entrance door for so many people. The composite option is made from a selection of materials designed to offer the very best possible performance and look. It'll last far longer than its alternatives, saving you the cost of maintenance or even a new door. Not only is security a key feature, composite doors also offer a far reduced need for maintenance over time. Even the glass is designed to reduce dusting and rubbing down. All you need to do is an incredibly infrequent wipe down with warm soapy water and wipe dry with a soft clean cloth. The inner door leaf face is always white unless otherwise specified. All of our contemporary composite front doors are manufactured to meet the very highest standards of construction. When fitted, they come complete with a 10 year guarantee for your peace of mind. Feel free to contact us if you have any questions about pricing, fitting or sizing. Alternatively you can use our door designer below to look at all of the options.
DESIGN YOUR OWN COMPOSITE FRONT DOORS

USING OUR ONLINE DESIGNER