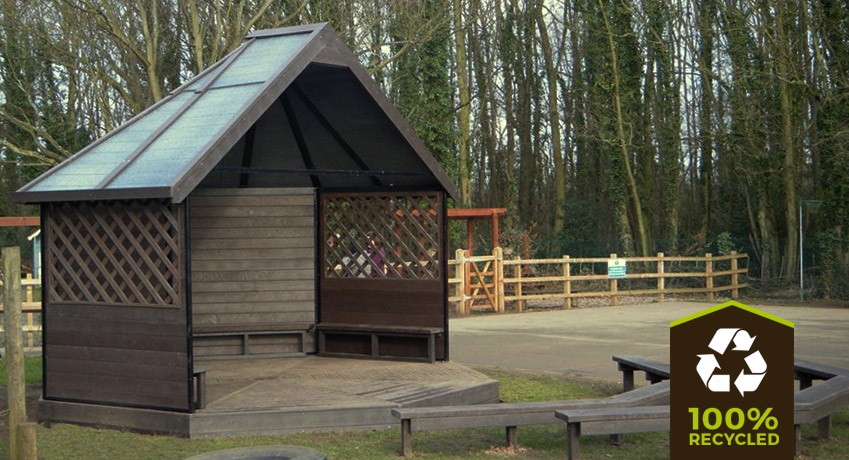 Eco Plastic Wood buildings are an incredible prospect for your business – practical and environmental benefits are extensive for this product. We take pride in our approach to creating innovative, useful products that are made from plastic that would otherwise be sent to landfill. They're appropriate for environments of any size and are made to fit your requirements.
Eco Plastic Wood are dedicated to providing an innovative, practical solution reusing environmental waste while creating high-quality products. Durability is greatly enhanced by our unique material and many downfalls of typical structures are met and resolved by our unique approach. Weather and vandalism can seriously affect typical buildings over time, which means further maintenance and eventual replacement of the structure. Plastic wood constructs however, are weatherproof and graffiti wipes off easily due to the inert nature of our material. Housing associations, architects and local authorities love our buildings due to their cost saving and sustainable nature.
Moisture wipes off easily, and the building can be installed onto the ground as it will not rot. Our buildings last far longer than other materials. All of these benefits result in a unique product that can meet any demanding requirements while reducing damage to the environment. Here at Eco Plastic Wood, we're dedicated to providing you with a unique product. All our products are made to measure and our specialist team can meet even the most specific of requirements. Our completed plastic wood buildings speak for themselves and have been used in a variety of fashions. Popular uses are sheds, smoking shelters, gazebos, summer houses and outdoor classrooms. It comes in a versatile, simple design that complements many environments. Cost-effective products are always a feature of ours as the reduced maintenance costs are a major benefit to all installations. It's easy to see why already a variety of businesses have opted for plastic wood buildings as they are an extremely versatile, maintenance-free and high quality product that can be made to fit any of your requirements.
KEY BENEFITS OF PLASTIC WOOD BUILDINGS
It's essential for buildings to be of the highest quality. Ours are bespoke, resilient and very easily maintained due to being made of our unique recycled plastic wood material.
We can handle any specific ideas you may have for your building and are experienced at doing so. The only limit is your creativity.