Committing to a more environmentally friendly way of living? In addition to reducing your energy usage and recycling various materials, there are many other things you could be doing. Our eco planters are one such solution for making your life (and your garden) even greener. 
Here's how!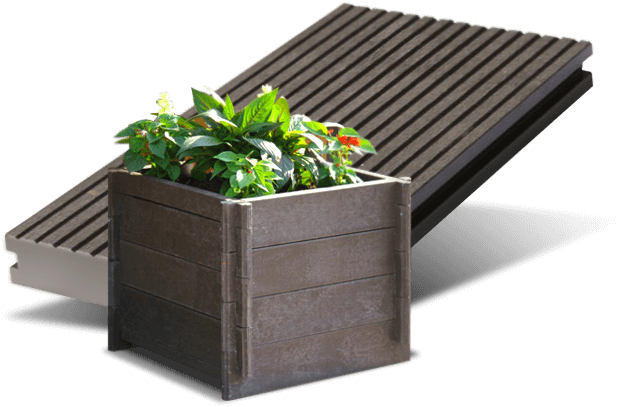 Durable Plastic Wood Planters 
These days, gardeners are spoilt for choice when it comes to sustainable alternatives. And our recycled plastic wood planters are right up there in terms of popularity. Like all of our products, they are created from non-biodegradable plastic waste that has been rescued from landfill. This gives new life to material no longer thought to be of any use. 
As well as these environmental benefits, there are plenty of practical advantages too. By purchasing an eco planter, you'll gain a product that can both withstand adverse weather conditions and provide an environment extremely conducive to plant growth. 
Better Than Traditional Products 
Although pleasing to the eye, traditional wood-based planters suffer from a relatively short lifespan. After years of exposure to the elements, they will start to rot and break down – requiring you to source regular replacements. This is not the case with recycled plastic products. 
Alongside an appealing wood-like finish, our eco planters will last for as long as you need them to. They are resistant to weather damage, cracks and graffiti, with minimal maintenance required. As they are expected to last for over 50 years, it's likely you will never need to replace them. 
Just take your pick from two planter styles, or a bespoke design, and you'll be away. 
Part Of The Bigger Picture 
At Eco Plastic Wood, our eco-friendly planters are part of a vast range of high-quality sustainable products. You can completely reimagine your garden with the addition of our benches, gates, fences and so much more. Click here to explore all that we have to offer. 
Once you've done so, try the following to reinforce your green credentials! 
Avoid chemicals.

In most cases, standard garden poisons will work their way up the food chain and bring harm to a large number of living creatures. Counter this by using biological alternatives to target problem species. When you're choosing fertiliser, go for natural options like compost and manure. 

Turn the power off.

Instead of endlessly running the electric mower over the lawn, invest in a manual tool. A reel mower gives a more precise cut and enables healthy grass growth. Your energy usage will decrease too. 

Consider the origin of your plants.

Before you purchase a plant, see if you can find out where it has come from. There will be times when what you buy will have racked up enormous transport costs, which is not good for your carbon footprint. To overcome this, start planting from seed where possible as well as purchasing plants and seeds from local sources. 

Plant wisely.

Think about which plants you want in your garden and what they can do for you. In addition to growing your own food, invest in plants that climb up the side of your house. This will reduce your reliance on both air conditioning and central heating. 
—————————————————————————————————————–
For more information about Eco Plastic Wood, please visit our website. To make an enquiry, fill out this form and we will get back to you as soon as we can.