Spring has sprung, it's May, the sun is shining –  just about – and it's #NationalGardeningWeek! Our blog this month shows you how you can get the most from your recycled plastic wood garden planters using the most beautiful spring displays.
If you haven't already got plants in your garden that you can take cuttings from or replant, or if you're in a brand new blank canvas outdoor space, there are so many types of plants to make the most out of. Whether you tend to a domestic garden, are looking to bring some colour into your development, school, or housing project or simply want some inspiration, there's a planter idea to suit you. Some of our favourite plants to incorporate in a display include:
Camellia – a great plant which can be enjoyed all year, even when it's not in flower. This particular plant requires minimum looking after and can be placed within view of the house in a shady spot
Clematis – these make beautiful container plants if trained using a trellis or mesh wire. Large-flowered clematis should be potted which generally flower during May and June.

Petunia – can be planted in pots and planters for continual summer flowering until the autumnal frosts.
For instance, you can sow Canterbury Bells in early May to get the best possible results and a guaranteed flowery summer. Foxgloves, on the other hand, can be sown at any point during the year (just as long as not during a hard frost or dry drought period) but given the recent wet weather with sunny intervals, it seems that now is the perfect time to get the trowels out and start potting…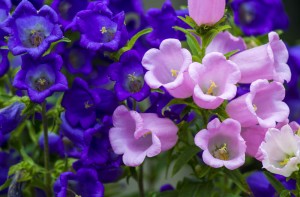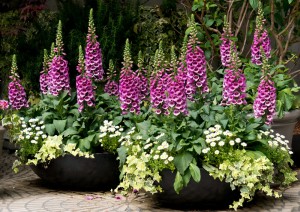 Alternatively, if it's one singular plant that you'd prefer to maintain and look after, a small tree or grass plant is a great option. Tree lily pots are striking plants which flower within their first year. They can grow up to 2.4m with incredible blooms. They're perfect for a large planter as they're easy to plant and look after whilst at the same time creating a statement in any garden or outdoor space.
Container Types
There's an abundance of different types of containers, planters and pots that you can utilise. This often depends on the scale of your garden, the style, and what look you want to go for.
Plastic containers are much lighter than traditional pots and can maintain the moisture better so that they don't dry the bottom out so much. Wood containers can look lovely outdoors especially if you're going with the rustic look. However, as with all types of wood, it eventually rots which can make the products costly, time-consuming, with a need for maintenance.
Our specially manufactured bespoke garden planters are made from fully recycled plastic which has the same ability to hold plants as general plastic pots. Some plastic pots are unsightly and not always as good for the environment as they are produced for that single purpose. We use a plethora of single-use recycled plastic which would otherwise be headed to landfill which gives the durability and resilience to each container meaning that weather and vandalism have no bearing on the wear of the item.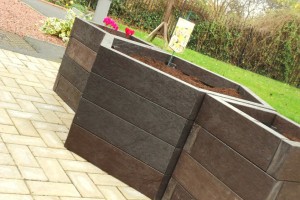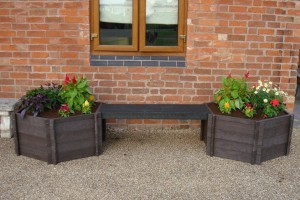 Have a specific project in mind? Give us a call, we're always excited to get started on something new. We'll talk through your ideas with you, and give you some tips on the best product for you. We look forward to hearing from you!